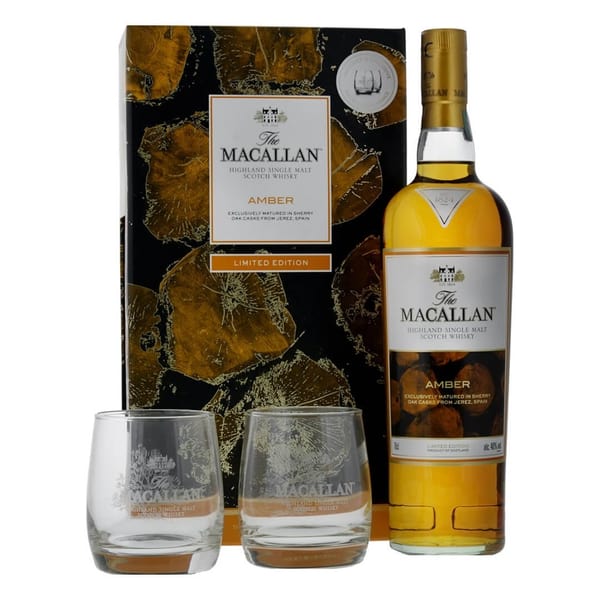 © Fotographie by Silverbogen AG
The Macallan Amber 1824 mit 2 Gläser 70cl
Ein bernsteinfarbener Single Malt Whisky aus der 1824-Serie von Macallan im Set mit zwei passenden Gläsern.
CHF 75.00
inkl. MwSt. zzgl. Versandkosten
Versandkostenfrei ab Fr. 80.–

Voraussichtlicher Wareneingang: unbekannt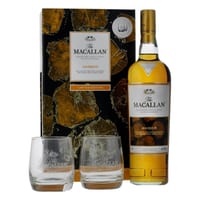 The Macallan Amber 1824 mit 2 Gläser 70cl
CHF 75.00
Beschreibung
Gründer Alexander Reid erhielt seine Brennlizenz im Jahr 1824, womit The Macallan zu den frühesten legalen Brennereien in Schottland gehört. Anfang der 1980er Jahre lancierte das Unternehmen die 1824-Linie, die zwei seiner grössten Stärken verkörpern soll: Die Reifung in Sherry-Fässern und die natürliche Farbe. Entstanden sind dabei drei verschiedene Whiskys: Amber, Sienna und Ruby. Diese reiften in verschiedenen Fässern und entwickelten dadurch unterschiedliche Aromen und Farben. Die Amber-Edition zeigt sich in einem attraktiven Gold-/ Bernsteinton. Sie wurde in First Fill- und Refill-Sherryfässern aus amerikanischer und spanischer Eiche gelagert.
Factsheet als PDF downloaden
Zusatzinformation
| | |
| --- | --- |
| Alkoholgehalt | 40% |
| Flascheninhalt | 70cl |
| Herkunftsland | Grossbritannien |
| Region | Speyside, Schottland |
| Abfüller | The Macallan Distillers Ltd., Easter Elchies, Craigellachie, AB38 9RX, United Kingdom |
| Marke | Macallan |
| Typ | Single Malt Scotch Whisky |
| Anwendung | pur oder für diverse Drinks und Cocktails |
| Land | Vereinigtes Königreich |
| Degustationsnotiz | In der Nase mit dezenten Zitrusnoten und Aromen von süsser Vanille, Rosinen und Zimt. Am Gaumen zeigen sich vordergründig grüne Äpfel, Limonen und etwas Zimt. Im Abgang mit dezenten Frucht- und Getreidearomen. |
| Verkehrsbezeichnung | Whisky |
| Details | In First Fill- und Refill-Sherryfässern aus amerikanischer und spanischer Eiche gelagert |
| Zutaten | Ein Zutatenverzeichnis ist nach Art. 16 Abs. 4 der VERORDNUNG (EU) Nr. 1169/2011 nicht erforderlich. |
| Verpackung | Im Karton mit zwei Gläsern |
Weitere Empfehlungen