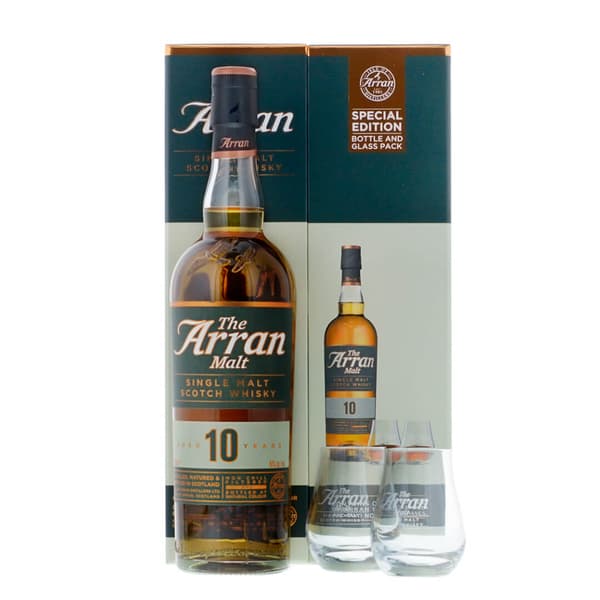 © Fotographie by Silverbogen AG
The Arran Malt 10 Years Single Malt Scotch Whisky mit zwei Gläser 70cl
Dieser Single Malt ist eine Standardabfüllung aus dem Hause Arran. Er lagerte während zehn Jahren in Bourbon- und Sherryfässern und kann dank der mitgelieferten Gläser gebührend verkostet werden.
CHF 59.90
inkl. MwSt. zzgl. Versandkosten
Versandkostenfrei ab Fr. 80.–

Voraussichtlicher Wareneingang: unbekannt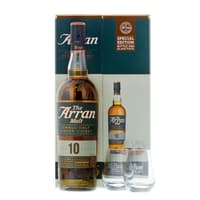 The Arran Malt 10 Years Single Malt Scotch Whisky mit zwei Gläser 70cl
CHF 59.90
Beschreibung
Die Isle of Arran liegt in einer grossen Bucht zwischen Campbeltown und der Region Glasgow. Eine einzige Strasse führt rund um die Insel, die von Felslandschaften, Feldern und Mooren übersät ist. Ganz im Norden bei Lochranza befinden sich seit 1995 die Isle of Arran Distillers, die - wie so viele ihrer Konkurrenten auch - behaupten, das reinste Wasser in ganz Schottland zu haben. Abgesehen davon kommen lediglich Hefe und Gerste (der Sorten Optic und Oxbridge) in die grossen kupfernen Gärbehältnisse. Ihre Single Malts werden schliesslich mit der Aufschrift "The Arran Malt" versehen und geben allen Grund für die Inselbewohner, stolz auf "ihre Brennerei" zu sein.
Bei diesem 10-jährigen Single Malt handelt es sich um eine Standardabfüllung der Brennerei, die 2006 zum ersten Mal auf den Markt gebracht wurde. Sie lagerte in ex-Bourbonfässern und Sherryfässern.
Factsheet als PDF downloaden
Zusatzinformation
| | |
| --- | --- |
| Artikelnummer | 100659 |
| Alkoholgehalt | 46% |
| Flascheninhalt | 70cl |
| Herkunftsland | Grossbritannien |
| Region | Isle of Arran, Schottland |
| Abfüller | Isle of Arran Distillers Ltd, Lochranza, Isle of Arran KA27 8HJ, Großbrittanien |
| Marke | Arran |
| Typ | Single Malt Scotch Whisky |
| Anwendung | pur oder für diverse Drinks und Cocktails |
| Degustationsnotiz | in der Nase ist zunächst Vanille präsent, gefolgt von exotischen Früchten und einem Hauch Kakao. Am Gaumen mit Zitrusaromen, einer Spur Zimt sowie dezenten Eichennoten im Hintergrund. |
| Verkehrsbezeichnung | Whisky |
| Details | im Set mit zwei Gläsern |
| Ehrungen | Gewann 2014 beim "World Whiskies Awards" in der Kategorie "Best Island Single Malt 12 Years and Under" |
| Zutaten | Ein Zutatenverzeichnis ist nach Art. 16 Abs. 4 der VERORDNUNG (EU) Nr. 1169/2011 nicht erforderlich. |
| Verpackung | mit Verpackung |
Top-Whisky, hübsche Gläser

Einer meiner Lieblingswhiskies, super ausgewogen, nicht zu schwer im Geschmack, süsslich-malzig, DEN Whisky hab ich ständig in der Bar präsent.

K. Raouf am 29.03.2019

Saugut!

Also die Gläser sehen ja recht nett aus, aber der Whisky ist einfach nur der Hammer. Exakt ausbalanciert, süsslich-malzig, kein Rauch (trotz Inselwhisky...), ich hab von diesem Whisky stets 2-3 Flaschen im Vorrat. Preis-Leistung toll!

K. Raouf am 12.03.2019
Weitere Empfehlungen