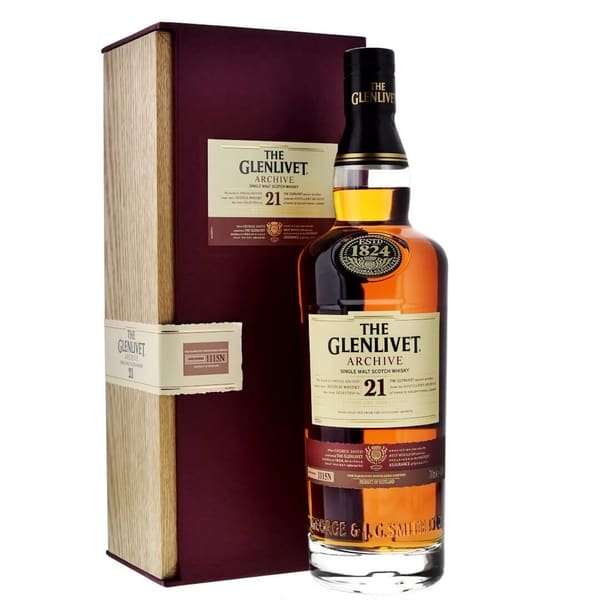 © Photographie par Silverbogen AG
The Glenlivet 21 Archive Years Single Malt Whisky 70cl
Un Single Malt de 21 ans d'âge de la maison Glenlivet, qui a passé beaucoup de temps dans des tonneaux. Chaque bouteille de cette édition limitée porte son numéro d'identification personnel.
CHF 159.00
Incl. TVA plus Frais de livraison
Livraison gratuite à partir de Fr. 80.–

Date de livraison prévue: Prochain jour ouvrable pour les commandes jusqu'à 17:00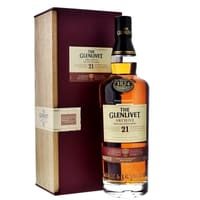 The Glenlivet 21 Archive Years Single Malt Whisky 70cl
CHF 159.00
Description
La distillerie de Glenlivet, à la limite orientale des Highlands écossais, est entourée de champs d'orge, de petites collines, de montagnes, de maisons dispersées et de vastes routes de campagne. Mais l'intérieur de la distillerie propose également un décor intéressant, avec sept alambics Wash Stills qui produisent 15 000 litres de whisky par an et sept alambics Spirit Stills qui produisent 10 500 litres de whisky par an, ce qui équivaut à plus de 10 million de litres de whisky Speyside par an. Cela fait de Glenlivet la deuxième plus grande distillerie de whisky d'Écosse. Mais ce n'est pas tout: en 1823, George Smith a été le premier à se joindre à l'Act of Excise, permettant à sa distillerie de fonctionner d'une manière légale. Auparavant, la production d'alcool conforme à la loi était impraticable, en raison de la charge fiscale excessive. Bien que Smith ait d'abord attiré le mécontentement des autres familles de distillateurs, cela n'a pas duré bien longtemps. La société, rachetée par Pernod Ricard, s'est quant à elle engagée à faire de Glenlivet le numéro un des Single Malts les plus vendus au monde. Ce whisky est stocké pendant 21 ans dans différents types de fûts, allant jusqu'à sept. Il est seulement produit en édition limitée.
Téléchargé comme fichier PDF
Informations supplémentaires
| | |
| --- | --- |
| Numéro d'article | 100633 |
| Alcool | 43% |
| Contenu | 70cl |
| Pays | Grossbritannien |
| Région | Speyside, Ecosse |
| Embouteilleur | The Glenlivet Distillery, 4 Castleton of Blairfindy Glenlivet, Ballindalloch AB37 9DB, UK |
| Marque | Glenlivet |
| Type | Single Malt Scotch Whisky |
| L'âge | 21 ans |
| L'usage | pur |
| Dégustation | Nez: avec des notes de sherry, de bois et de fruits. Bouche: saveurs de chêne avec des épices sèches. Aussi avec de la cannelle, des noix et du chocolat noir. Finale: longue avec un peu de noisette. |
| Désignation commerciale | Whisky |
| Détails | Stocké dans divers fûts de chêne (en particulier des fûts de sherry) |
| Ingrédients | Ein Zutatenverzeichnis ist nach Art. 16 Abs. 4 der VERORDNUNG (EU) Nr. 1169/2011 nicht erforderlich. |
| Additifs | mit Farbstoff |
| L'emballage | mit Verpackung |
Plus d'informations sur cette marque
Autres Recommandations