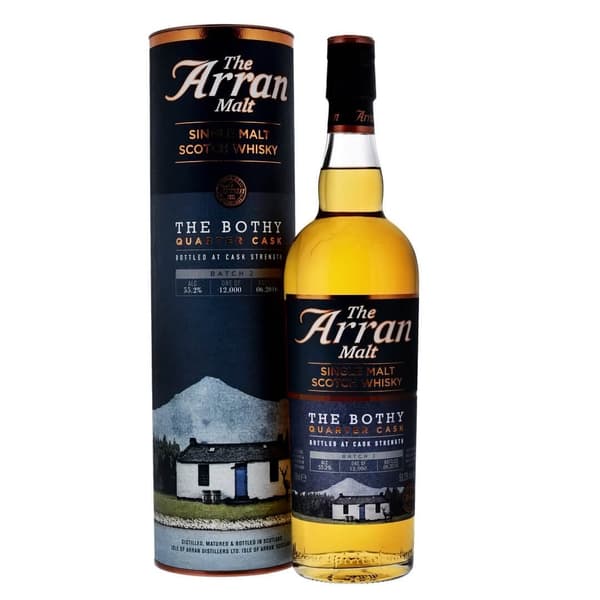 © Fotographie by Silverbogen AG
Arran The Bothy Quarter Cask Batch 2 70cl
Ein in limitierten Chargen produzierter Whisky, der zunächst in First Fill-Bourbonfässern lagert und zur Nachreifung in Quarter Casks kommt.
CHF 89.90
inkl. MwSt. zzgl. Versandkosten
Versandkostenfrei ab Fr. 80.–

Voraussichtlicher Wareneingang: unbekannt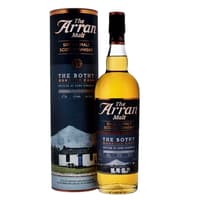 Arran The Bothy Quarter Cask Batch 2 70cl
CHF 89.90
Beschreibung
Die Brennerei Isle of Arran Distillers Ltd. befindet sich auf der gleichnamigen schottischen Insel und wurde im Jahr 1995 gegründet. Trotz des jungen Alters hat man bei Arran schon einige Abfüllungen im Programm. Neben einem 10-, 12-, 14- und 16-jährigen Whisky gehört die Robert Burns Edition zum Standardsortiment des Haues. Daneben gibt es ein grosses Angebot an Whiskys mit speziellen Wein-Finishes.
Die Bothy Quarter Cask Edition wird zunächst in erstbefüllten Bourbonfässern gelagert und kommt anschliessend für 18-monatigen Nachreifung in kleinere Quarter Casks. Die Batch 2 Edition wurde in Fassstärke im Jahr 2016 abgefüllt und ist auf 12'000 Flaschen weltweit limitiert.
Factsheet als PDF downloaden
Zusatzinformation
| | |
| --- | --- |
| Artikelnummer | 100836 |
| Alkoholgehalt | 55.2% |
| Flascheninhalt | 70cl |
| Herkunftsland | Grossbritannien |
| Region | Isle of Arran, Schottland |
| Abfüller | Isle of Arran Distillers Ltd, Lochranza, Isle of Arran KA27 8HJ, Großbrittanien |
| Marke | Arran |
| Typ | Single Malt Scotch Whisky |
| Anwendung | pur |
| Degustationsnotiz | Der Duft von Zitrusfrüchten vermischt sich mit süss-würzigen Tönen von Zimt und Vanille. Am Gaumen zeigen sich Noten von Ananas und Apfelkuchen. Der lange Abgang ist geprägt von Zitrus und Gewürzen. |
| Verkehrsbezeichnung | Whisky |
| Details | Lagerung in First Fill-Bourbonfässern, dann 18-monatige Nachreifung in kleineren Quarter Casks, abgefüllt im Jahr 2016, auf 12'000 Stück limitiert |
| Zutaten | Ein Zutatenverzeichnis ist nach Art. 16 Abs. 4 der VERORDNUNG (EU) Nr. 1169/2011 nicht erforderlich. |
| Verpackung | in der Dose |
Weitere Empfehlungen