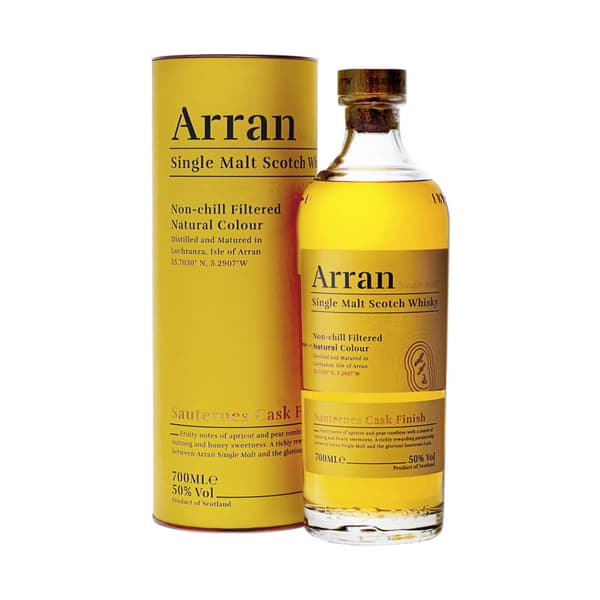 © Fotographie by Silverbogen AG
Arran The Sauternes Cask Finish Single Malt Whisky 70cl
Dieser Insel-Whisky reifte in Sauternes-Weinfässern nach, was der aufmerksame Verkoster sowohl sehen als auch riechen und schmecken kann.
CHF 75.00
inkl. MwSt. zzgl. Versandkosten
Versandkostenfrei ab Fr. 80.–

Voraussichtlicher Wareneingang: unbekannt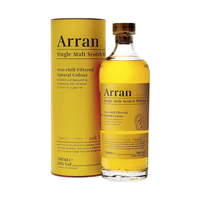 Arran The Sauternes Cask Finish Single Malt Whisky 70cl
CHF 75.00
Beschreibung
Die Brennerei Isle of Arran Distillers Ltd. befindet sich auf der schottischen Insel Arran östlich von Campbeltown und wurde im Jahr 1995 gegründet. Damit gehört sie zu den jüngsten Whisky-Brennereien des Landes. Im Standard-Portfolio sind auch eine Reihe an Whiskys mit Weinfass-Finishes zu finden, wie diese Sauternes Cask Finish-Edition. Nach einer etwa achtjährigen Lagerung in ehemaligen Bourbonfässern reifte der Whisky in einem Fass weiter, der zuvor süssen Bordeaux-Wein von einem kleinen, handwerklichen Betrieb enthielt. Das Resultat ist eine anregend goldene Farbe und ein Geschmack mit ausgeprägten, süssen Fruchtnoten.
Factsheet als PDF downloaden
Zusatzinformation
| | |
| --- | --- |
| Artikelnummer | 100603 |
| Alkoholgehalt | 50% |
| Flascheninhalt | 70cl |
| Herkunftsland | Grossbritannien |
| Region | Isle of Arran, Schottland |
| Abfüller | Isle of Arran Distillers Ltd, Lochranza, Isle of Arran KA27 8HJ, Großbrittanien |
| Marke | Arran |
| Typ | Single Malt Scotch Whisky |
| Anwendung | pur, auf Eis oder mit etwas Wasser verdünnt |
| Degustationsnotiz | süsser Geschmack mit Noten von Honig, Aprikosen, Melone und Heckenkirsche. |
| Verkehrsbezeichnung | Whisky |
| Details | Lagerung in Bourbonfässern mit Nachreifung im Sauternes-Weinfass |
| Zutaten | Ein Zutatenverzeichnis ist nach Art. 16 Abs. 4 der VERORDNUNG (EU) Nr. 1169/2011 nicht erforderlich. |
| Verpackung | in der Dose |
Weitere Empfehlungen