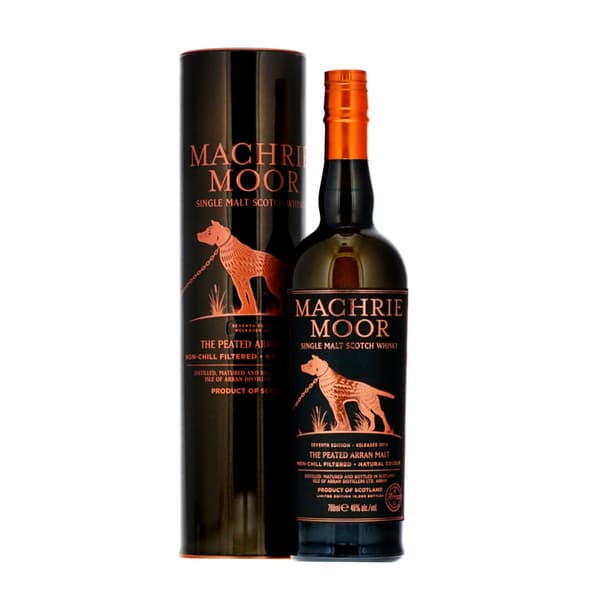 © Fotographie by Silverbogen AG
Arran The Peated Machrie Moor 7. Edition Single Malt Whisky 70cl
Die siebte Edition des Machi Moor Whiskys kam 2016 heraus und offenbart Zitrusfrüchte, Torfrauch sowie karamellig-süsse Noten.
CHF 79.00
inkl. MwSt. zzgl. Versandkosten
Versandkostenfrei ab Fr. 80.–

Voraussichtlicher Wareneingang: unbekannt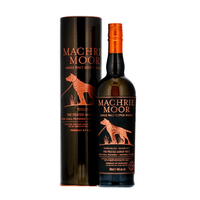 Arran The Peated Machrie Moor 7. Edition Single Malt Whisky 70cl
CHF 79.00
Beschreibung
Das Unternehmen Isle of Arran Distillers Ltd. befindet sich auf der gleichnamigen schottischen Insel und wurde im Jahr 1995 gegründet. Damit gehört es zu den jüngsten Whisky-Brennereien Schottlands. Trotz des jungen Alters hat man bei Arran schon einige Abfüllungen im Programm, darunter ein grosses Angebot an Whiskys mit Weinfass-Finishes. Seit 2004 erscheint jährlich der leicht getorfte Machrie Moor, von dem jeweils um die 12'000 Flaschen erhältlich sind. Der Whisky wird im Herbst gebrannt und vereint den typisch frischen, fruchtigen Charakter eines Arran Malts mit rauchigen Noten, die an das sagenumwobene Moorgebiet Machrie an der Westküste der Insel erinnern. Auf der Flasche abgebildet ist der Hund des legendären Kriegers Fingal, welcher laut einer Sage an einem Stein im Moorgebiet angekettet war.
Factsheet als PDF downloaden
Zusatzinformation
| | |
| --- | --- |
| Artikelnummer | 100611 |
| Alkoholgehalt | 46% |
| Flascheninhalt | 70cl |
| Herkunftsland | Grossbritannien |
| Region | Isle of Arran, Schottland |
| Abfüller | Isle of Arran Distillers Ltd, Lochranza, Isle of Arran KA27 8HJ, Großbrittanien |
| Marke | Arran |
| Typ | Single Malt Scotch Whisky |
| Anwendung | pur oder für diverse Drinks und Cocktails |
| Degustationsnotiz | in der Nase mit Orangen, Zitronen, Äpfeln und Tropenfrüchten sowie einem leichten Beiklang von Torfrauch. Im Geschmack offenbaren sich süsse Töne von Schokolade, Karamell und Vanille, ausserdem Torf, Rauch und Gras. Später kommen Zitrusfrüchte, Eichenholz und Röstaromen hervor. |
| Verkehrsbezeichnung | Whisky |
| Details | mit 20 ppm getorft, limitiert auf 12'000 Flaschen weltweit |
| Zutaten | Ein Zutatenverzeichnis ist nach Art. 16 Abs. 4 der VERORDNUNG (EU) Nr. 1169/2011 nicht erforderlich. |
| Verpackung | in der Dose |
Weitere Empfehlungen