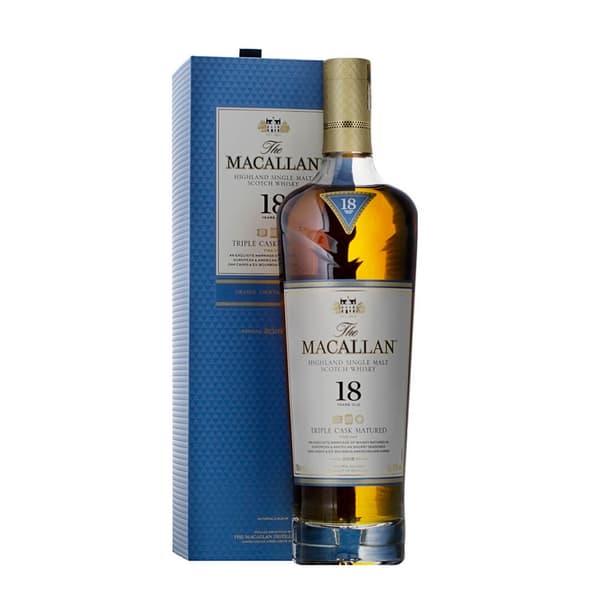 © Fotographie by Silverbogen AG
The Macallan 18 Years Triple Cask Single Malt Whisky 70cl
Der Macallan 18 Years Old Triple Cask wird in besonders kleinen Kupferbrennblasen destilliert und ist eine Vermählung von Single Malt Whiskys, die in Sherryfässern aus europäischer und amerikanischer Eiche sowie in alten Bourbon-Fässern reiften.
CHF 279.00
inkl. MwSt. zzgl. Versandkosten
Versandkostenfrei ab Fr. 80.–

Voraussichtlicher Wareneingang: unbekannt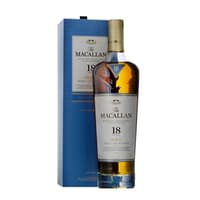 The Macallan 18 Years Triple Cask Single Malt Whisky 70cl
CHF 279.00
Beschreibung
The Macallan-Gründer Alexander Reid bekam seine Brennlizenz im Jahr 1824, womit Macallan zu den ersten legalen Brennereien in Schottland gehörte. In Murray, Schottland gelegen, verkauft die Macallan-Destillerie heute, nach Glenfiddich und Glenlivet, die grösste Menge an Single Malt Whisky weltweit. Ihre Kupferbrennblasen sind mit die kleinsten in der Speyside-Gegend und erlauben mit einer Maximalkapazität von 3900 Litern pro Blase einen grösseren Kontakt mit dem Gerstenmalz-Destillat. Diese sind so berühmt, dass sie früher auf der Rückseite der schottischen 10-Pfund-Note abgebildet waren. Daran, dass die Macallan Whiskys so schmecken, wie sie schmecken sollen, arbeitet ein sechsköpfiges Whisky Mastery Team unter der Leitung von Stuart MacPherson und Kirsteen Campbell. Weibliche Einflüsse sind bei The Macallan gern gesehen, denn die Whisky-Expertinnen Sarah Burgess und Polly Logan gehören ebenfalls zur Truppe.
Mit der neuen "Triple Cask"-Serie soll die bekannte "Fine Oak"-Linie abgelöst werden. Der 18 Year Old Triple Cask ist eine Vermählung von Single Malt Whiskys, die in europäischen Ex-Sherry, amerikanischen Ex-Sherry sowie amerikanischen Ex-Bourbon-Fässern heranreiften.
Factsheet als PDF downloaden
Zusatzinformation
| | |
| --- | --- |
| Artikelnummer | 700126 |
| Alkoholgehalt | 43% |
| Flascheninhalt | 70cl |
| Herkunftsland | Grossbritannien |
| Region | Schottland, Speyside |
| Abfüller | The Macallan Distillers Ltd., Easter Elchies, Craigellachie, AB38 9RX, United Kingdom |
| Marke | Macallan |
| Typ | Single Malt Scotch Whisky |
| Alter | 18 Jahre |
| Anwendung | pur, on the rocks oder mit einem Tropfen Wasser |
| Degustationsnotiz | Sehr süss und fruchtig in der Nase, mit Demerara-Zucker und Karamell. Am Gaumen mit viel Vanille, Kokos, Eiche und Ingwer. Langer Abgang mit Noten von Kaffee und Schokolade. |
| Verkehrsbezeichnung | Whisky |
| Details | Reift in europäischen Ex-Sherry-, amerikanischen Ex-Sherry- sowie in amerikanischen Ex-Bourbon-Fässern heran |
| Zutaten | Ein Zutatenverzeichnis ist nach Art. 16 Abs. 4 der VERORDNUNG (EU) Nr. 1169/2011 nicht erforderlich. |
| Verpackung | mit Verpackung |
Weitere Empfehlungen