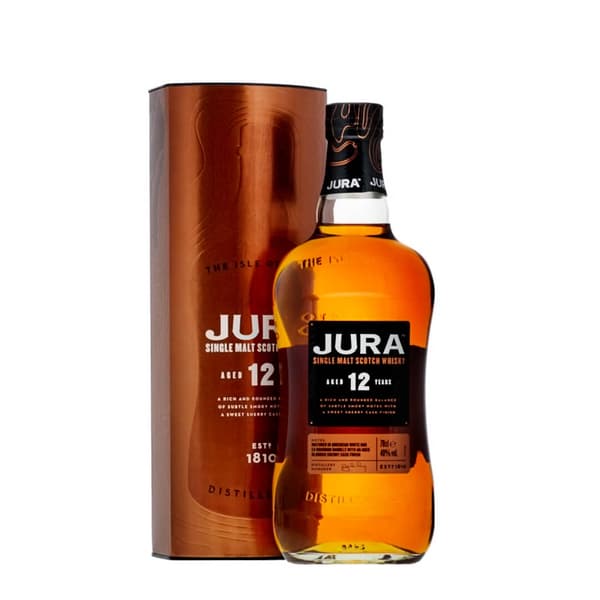 © Fotographie by Silverbogen AG
Jura 12 Years Single Malt Scotch Whisky 70cl
Ein 12-jähriger Single Malt als Zusammenstellung aus amerikanischen Weisseichenfässern, mit einem Sherry-Finish.
CHF 57.90
inkl. MwSt. zzgl. Versandkosten
Versandkostenfrei ab Fr. 80.–

Voraussichtlicher Wareneingang: unbekannt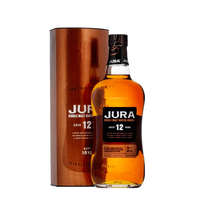 Jura 12 Years Single Malt Scotch Whisky 70cl
CHF 57.90
Beschreibung
Auf der Isle of Jura (übersetzt: Insel des Rotwildes), die sich im Westen von Schottand befindet, leben gerade mal 200 Menschen. Bereits 1600 galt Jura als Zentrum der Schwarzbrennerei und blieb dies noch bis ins 20. Jahrhundert. Die Isle of Jura Destillerie wurde im Jahre 1810 zunächst unter dem Namen "Small Isles Distillery" von Archibald Campbell gegründet. Gut 20 Jahre später löste man für sie eine Lizenz auf den Namen "Isle of Jura Distillery". Doch dann erreichte sie, wie so viele der schottischen Brennereien, das Pech: 1901 wurde die Destillerie komplett aufgelöst. Die heutige Destillerie wurde daher erst 1963 eröffnet.
Bei diesem Exemplar handelt es sich um einen zwölfjährigen Single Malt aus dem Kernsortiment, der die längste Zeit seiner Reifung in amerikanischen Weisseichenfässern gelagert wurde und anschliessend ein Finish in gebrauchten Oloroso Sherry Butts erhielt. Der goldfarbene Tropfen schmeckt nach Honig, braunem Zucker, gesalzenen Bananen und ein leicht wenig Rauch.
Factsheet als PDF downloaden
Zusatzinformation
| | |
| --- | --- |
| Alkoholgehalt | 40% |
| Flascheninhalt | 70cl |
| Herkunftsland | Grossbritannien |
| Region | Isle of Jura |
| Abfüller | Jura Distillery, Craighouse, Isle of Jura, PA60 7XT, Scotland |
| Marke | Jura |
| Typ | Single Malt Scotch Whisky |
| Alter | 12 Jahre |
| Anwendung | Pur oder für Drinks und Cocktails diverser Art |
| Land | Vereinigtes Königreich |
| Degustationsnotiz | In der Nase mit dem Duft von Schokolade, Walnuss und Zitrus. Am Gaumen zeigen sich Aromen von gesalzenen Bananen, braunem Zucker, Honig und ein wenig Rauch. |
| Verkehrsbezeichnung | Whisky |
| Details | Lagerung in amerikanischen Weisseichenfässern, Finish in Oloroso Sherryfässern. |
| Zutaten | Ein Zutatenverzeichnis ist nach Art. 16 Abs. 4 der VERORDNUNG (EU) Nr. 1169/2011 nicht erforderlich. |
| Zusatzstoffe | Mit Farbstoff |
| Verpackung | Mit Verpackung |
Weitere Empfehlungen