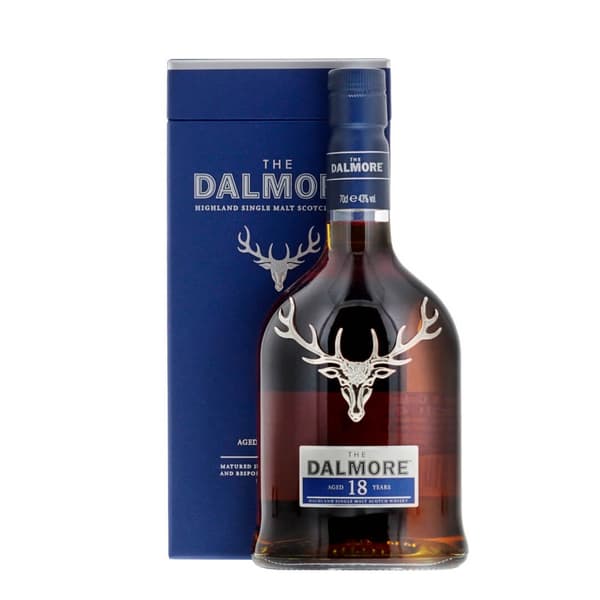 © Fotographie by Silverbogen AG
The Dalmore 18 Years Single Malt Whisky 70cl
Ein harmonisches Zusammenspiel aus Bourbon- und Sherryfässern lässt sich in diesem Dalmore Whisky beobachten, der einen aromatischen Fokus auf Zitrusfrüchte, Schokolade und Gewürze legt.
CHF 129.00
inkl. MwSt. zzgl. Versandkosten
Versandkostenfrei ab Fr. 80.–

Voraussichtlicher Liefertermin: Nächster Werktag bei Bestellungen bis 17:00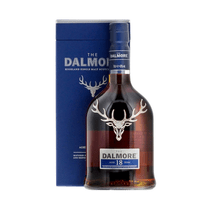 The Dalmore 18 Years Single Malt Whisky 70cl
CHF 129.00
Beschreibung
Der Name verrät es bereits: 18 Jahre lang ruht dieser Whisky, bis er schliesslich in die prominenten Dalmore-Flaschen abgefüllt wird. Seine Reifung erfolgt sowohl in ex-Bourbonfässern als auch in alten Matusalem Oloroso Sherryfässern, die von dem spanischen Weinhaus Gonzalez Byass importiert werden. Im Duft und im Geschmack zeigt sich der Einfluss der Fässer durch Noten von Vanille, dunkler Schokolade, Kaffee, Muskatnuss, Nelken und kandierten Zitrusfrüchten. Der The Dalmore 18 Years bestzt ausserdem eine ansprechend orange-rote Farbe, die auf das Tasting einstimmt.
Factsheet als PDF downloaden
Zusatzinformation
| | |
| --- | --- |
| Artikelnummer | 100681 |
| Alkoholgehalt | 43% |
| Flascheninhalt | 70cl |
| Herkunftsland | Grossbritannien |
| Region | Highlands & Islands, Scotland |
| Abfüller | The Dalmore Distillery, Alness, Ross-shire, IV17 0UT Großbrittanien |
| Marke | Dalmore |
| Typ | Single Malt Scotch Whisky |
| Alter | 18 Jahre |
| Anwendung | pur |
| Degustationsnotiz | duftet nach Vanille, dunkler Schokolade, Orange und Zimt. Im Geschmack verstärken sich die zitrusfruchtigen, schokoladigen und würzigen Eindrücke; Kaffee und Eichenholz kommen neu hinzu. |
| Verkehrsbezeichnung | Whisky |
| Zutaten | Ein Zutatenverzeichnis ist nach Art. 16 Abs. 4 der VERORDNUNG (EU) Nr. 1169/2011 nicht erforderlich. |
| Zusatzstoffe | mit Farbstoff |
| Verpackung | in Umkarton |
Weitere Empfehlungen