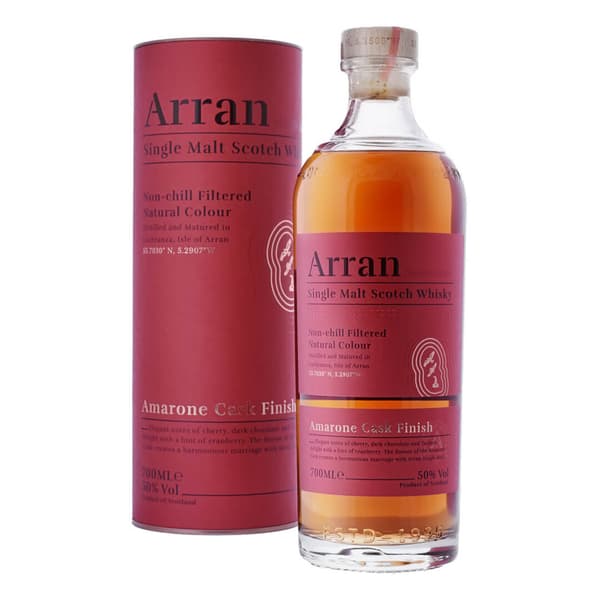 © Fotographie by Silverbogen AG
Arran The Amarone Cask Finish Single Malt Whisky 70cl
Ein Whisky auf der Core-Range von Arran. Er lagerte zunächst in ehemaligen Bourbonfässern und erhielt anschliessend ein Finish im Amarone-Rotweinfass.
CHF 75.00
inkl. MwSt. zzgl. Versandkosten
Versandkostenfrei ab Fr. 80.–

Voraussichtlicher Wareneingang: unbekannt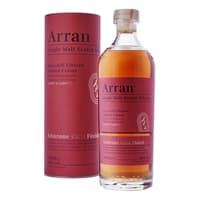 Arran The Amarone Cask Finish Single Malt Whisky 70cl
CHF 75.00
Beschreibung
Die Brennerei Isle of Arran Distillers Ltd. befindet sich auf der gleichnamigen, schottischen Insel und wurde im Jahr 1995 gegründet. Damit gehört sie zu den jüngsten Whisky Brennereien Schottlands. Doch trotz des jungen Alters hat man bei Arran schon einige Abfüllungen im Programm. Neben einem 10-, 12-, 14- und 16-jährigen Whisky gehört die Robert Bruns Edition zu den Standardabfüllungen des Haues. Daneben gibt es ein grosses Angebot an Wein-Finishes. Dazu gehört auch die "Arran The Amarone Cask Finish"-Edition. Nach einer Lagerung in ehemaligen Bourbonfässer reifte dieser Whisky in einem Amarone-Rotweinfass. Dadurch bekam er eine intensive rote Farbe und zeigt deutlich ausgeprägte Fruchtaromen.
Factsheet als PDF downloaden
Zusatzinformation
| | |
| --- | --- |
| Artikelnummer | 100601 |
| Alkoholgehalt | 50% |
| Flascheninhalt | 70cl |
| Herkunftsland | Grossbritannien |
| Region | Isle of Arran, Schottland |
| Abfüller | Isle of Arran Distillers Ltd, Lochranza, Isle of Arran KA27 8HJ, Großbrittanien |
| Marke | Arran |
| Typ | Single Malt Scotch Whisky |
| Anwendung | pur |
| Degustationsnotiz | Im Nosing setzen sich primär Aromen von Birne und Honig durch, gefolgt von gerösteten Mandeln und einem Hauch Kaffe. Am Gaumen sind Schokolade, Kirschen und Karamell präsent, dazu kommen fruchtige Noten von Pflaumen und Aprikosen sowie ein Hauch von Zimt. Der Abgang ist geprägt von Früchten und Eichenholz. |
| Verkehrsbezeichnung | Whisky |
| Details | Lagerung in ehemaligen Bourbonfässern, mit zusätzlicher Lagerung im Amarone-Rotweinfass |
| Zutaten | Ein Zutatenverzeichnis ist nach Art. 16 Abs. 4 der VERORDNUNG (EU) Nr. 1169/2011 nicht erforderlich. |
| Verpackung | in der Dose |
Traumhaft

Scotch am 11.12.2015
Weitere Empfehlungen